This Issue's Samson
This page will feature one man per issue. In some cases, as in this issue, the page will feature a group of men. I envision several pictures and possibly an interview. If you have any suggestions, please let me know. This issue features the House of David of Benton Harbor, Michigan.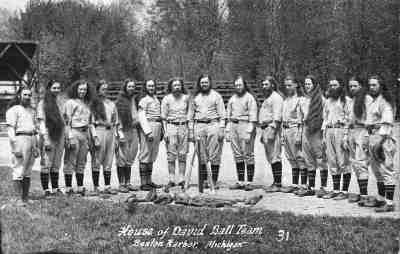 I've done something a little different with this picture. To accomodate those with slow internet connections, I've included a clickable map. Here's how it works. Click on any person in the picture to see a closeup of that person. To see the entire picture (170K) click on any other part of the picture.

The House of David was a community founded by a religious sect in 1903 at Benton Harbor, Michigan, and once had about 1000 members. The leader was Benjamin Purnell. Celibacy was one of the requirements and the members believed that ultimately they would go to Palestine where the Kingdom of God was to be established.
In 1620 in England, Joanna Southcott announced that she was the 1st of Seven Messengers to be sent by God to save the world. When the Seventh Messenger arrived, all who believed in him would be granted everlasting life (cf, Revelation 10:7). In 20 years, she collected 100,000 followers. She attempted to create the Second Messenger by immaculate conception, went into a trance, but instead of giving birth, she died. Subsequent messengers were Richard Brothers, George Turner, William Shaw, John Wroe, and James Zerell.
By the mid-1800s, under John Wroe, the church had adopted mosaic law; outlawed shaving and haircutting (according to Scripture, "man is the head of the woman") Also added a "cleansing of the blood" ritual: Messengers were responsible for deflowering all the virgins in their flock before they married. Zerell, the Sixth Messenger, collected the sermons of the previous Messengers into a book called the Flying Roll; henceforth, members of the group became known as Flying Rollers.
The group was chased out of Britain in the late 1800s when news of the blood cleansing rite was leaked to the press. The group split in three and moved to Australia, Canada and U.S.A. By 1890, the largest group was in Detroit Michigan under Michael Mills, a.k.a. Prince Mike, the Seventh (and last) Angelic Messenger. Prince Mike's followers tithed 100 percent of their wages to him, but after he announced in 1894 that the wives in the group would become common property and rotated among the men of the group, his wife, prompted by a man named Benjamin Purnell, sued him for divorce. In the course of the proceedings, she named all of Mike's mistresses; a lynch mob was formed and morals charges were levelled based on the blood cleansing rite. Mike was sentenced to prison for five years and Ben Purnell happily took over.
Now, obviously Ben Purnell couldn't be the Eighth Messenger, so he said that Prince Mike was an imposter messenger and that he, Ben Purnell, was the real Seventh Messenger. A schism erupted and Ben left the group with may defectors. Ben moved to the town of Fostoria, Ohio, and renamed the group Israelite House of David. He started taking on the persona of Christ -- he cut his hair and beard like Christ and, more tellingly, said he was Christ's younger brother. In 1903, however, he was hustled out of Fostoria after his daughter died and he haughtily refused to bring her back to life. The group migrated to Benton Harbor, Michigan, where he hooked up with 200 Flying Rollers living there.
During the next 23 years, Ben amassed a 10 million dollar fortune (according to Hidden Treasure: Where To Find It, How to Get It there may still be $1 million to $12 million hidden somewhere in Benton Harbor), owned farms, factories, buildings (each with a biblical name), a town of 900 people, a baseball team and an amusement park. He crowned himself King Benjamin, and his sermons took on an adventist fire and brimstone quality. He quartered his followers in simple buildings. They were not allowed to own anything, no tobacco or alcohol, no meat-eating, wear cheap clothes and long flowing robes, no kissing for PDA, and women and men were married off in mass weddings after Ben performed the blood cleansing rite.
His amusement park was an enormous success. He was selling 200,000 tickets a summer, operated entirely by his grim, bearded followers in their flowing robes. His baseball team was also enormously successful, part-athletic, part-vaudville. They started out on the local circuit, then went semi-pro, then went out on nationwide tours, barnstorming around, taking on anyone. The team, however, was exposed in their practise of hiring professionals and dressing them in wigs and fake beards.
Morals charges were filed against him in 1910, 1914, 1919, and 1922. The Detroit Free Press ran a series of exposés on the cult in 1923 and called for the state attorney general to act. They raided his colony frequently but couldn't find him -- he was assumed to have fled to Canada. On November 16th, 1926, Bessie Daniels walked into a police station and said Purnell was living in a secret underground chamber in his mansion. They raided it and found him in bed with his harem of soon-to-be-ex-virgins. Trials and lawsuits followed, and he died November 16th, 1927. As of 1992, the group, still based in Benton Harbor, MI, reported 60 members.
The Israelite House of David was reorganized by Mary Purnell after Ben Purnell died in 1927. The House of David was wracked with lawsuits from former members who claimed fraud and abuse. The church was also split when Ben's wife, Mary Purnell suddenly claimed to be the Seventh Messenger (the third one so far) instead of her husband (she apparently amended her claim later: she was, in fact, Co-Seventh Messenger with her husband.) The courts awarded her half the church's property and about half the church followed her. The teaching is identical with that of the House of David.
The House of David operated several baseball teams simultaneously, including one in the East, one in the Midwest and Northwest, and one at home in Michigan. In addition, they also had a junior club that played in the Benton Harbor area. Click on each picture to view a larger version of it.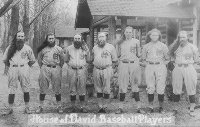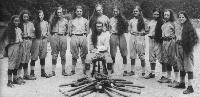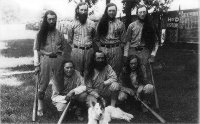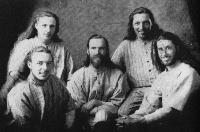 Above are several team pictures.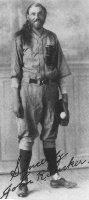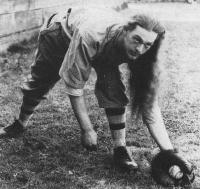 Here are pictures of John R. Tucker (left), who was a regular player for the House of David for over two decades, and George Anderson (on the right).



The House of David also had bands. Here are a couple of pictures of the bands.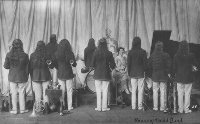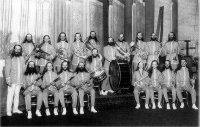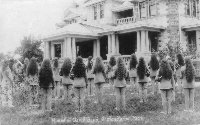 And here is a pictures of female band members.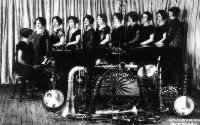 ---

Purchase a House of David jersey at Onlinesports.com



Purchase a House of David baseball cap at the Negro Leagues giftshop.


Purchase a white t-shirt displaying the House of David baseball team at the Negro Leagues gift shop.

Bibliography:
Articles and web sites containing the articles have separate links when applicable.
Towards a Dictionary of Communitarian Societies, The American Communal Movement
Israelite House of David, Encyclopedia Jill
Hidden Treasure: Where to Find It, How to Get It, by Bill Yenne, book review by Steven H. Draper
Message posted to Negro Leugues message board by Justin Kodner

See also:
Train Whistles, by Dan, Third Coast Writing Project (partway down the page) for memories of stories and trips to the House of David community.
Articles and scrapbooks, Notre Dame Achives.
Benton Harbor/St. Joseph History, Kalamazoo, Michigan web site.
House of David Museum.

Links to previous Samson Pages:
First Samson: Mart
Second Samson: Jimmy
Third Samson: Willie Nelson

Go back to The Men's Long Hair Site

http://the-light.com/mens/samson/4/samson.html
---
This Page Copyright © 1998 Victor S. Engel. See bibliography for copyrights to excerpts.